Enzymes
From the University of Maryland Medical Center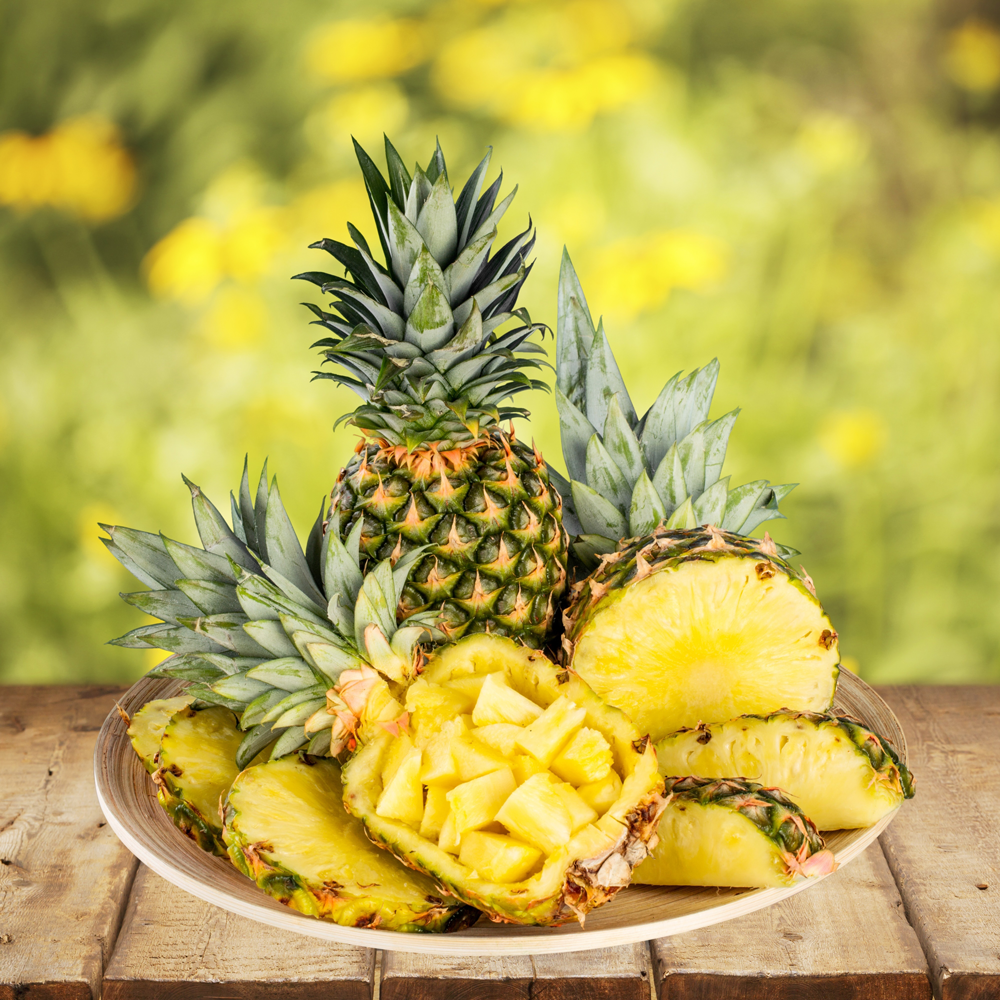 Bromelain used as an systemic enzyme seems to reduce pain and improve mobility in people.
"Bromelain is a mixture of enzymes that digest protein (proteolytic) that are found in pineapples (Ananas comosus). Pineapple has been used for centuries in Central and South America to treat indigestion and reduce inflammation. Bromelain, which is derived from the stem and juice of the pineapple, was first isolated from the pineapple plant in the late 1800s. The German Commission E approved bromelain to treat swelling and inflammation after surgery, particularly sinus surgery."
"Bromelain can be used to treat a number of conditions, but it is particularly effective in reducing inflammation from infection and injuries."
Surgery, Sprains and Strains, and Tendinitis
Although studies show mixed results, bromelain may reduce swelling, bruising, healing time, and pain after surgery and physical injuries. It is often used to reduce inflammation from with tendinitis, sprains and strains, and other minor muscle injuries. Studies of people having dental, nasal, and foot surgeries found it did reduce inflammation. In Europe, bromelain is used to treat sinus and nasal swelling following ear, nose, and throat surgery or trauma.
Wounds and Burns
Some studies of animals suggest that bromelain, when applied to the skin, may be useful in removing dead tissue, a process called debridement, from third-degree burns. One preliminary study using a debridement agent that is derived from bromelain to treat people with second- and third-degree burns showed a benefit. Severe burns require a doctor's care. Do not apply bromelain to broken skin.
Sinusitis (Sinus inflammation)
Although not all studies agree, bromelain may help reduce cough and nasal mucus associated with sinusitis, and relieve the swelling and inflammation caused by hay fever.
Arthritis
Studies show mixed results, but one study suggested that a combination of bromelain, rutosid, and trypsin worked as well as nonsteroidal anti-inflammatory drugs, which are commonly used pain relievers, for reducing knee pain from osteoarthritis. NSAIDs include ibuprofen (Advil or Motrin), naproxen (Aleve), and diclofenac (Voltaren), among others.
Some early studies suggest that bromelain may also help reduce pain in people with rheumatoid arthritis, but the results are not certain.
Infection
Some evidence from test tube and animal studies suggests that bromelain can kill some viruses and bacteria. But more research, including human studies, is needed to see whether it truly works.
How to Take It
The German Commission E recommends 80 – 320 mg 2 – 3 times per day. For specific conditions, higher doses may be prescribed: Digestive aid: 500 mg per day in divided doses with meals Injuries: 500 mg 4 times a day on an empty stomach Arthritis: 500 – 2,000 mg a day in two divided doses.
Precautions
Because supplements may have side effects or interact with medications, you should take them only under the supervision of a knowledgeable health care provider.
People who are allergic to pineapples, wheat, celery, papain, carrot, fennel, cypress pollen, or grass pollen may also be allergic to bromelain
Pregnant women and people with bleeding disorders, high blood pressure, and liver or kidney disease should not take bromelain.
Bromelain may increase the risk of bleeding during and after surgery. You should stop taking bromelain at least 2 weeks before surgery.
Possible Interactions
If you are being treated with any of the following medications, you should not use bromelain without talking to your health care provider.
Antibiotics — Bromelain may increase the amount of antibiotics absorbed by the body. In one clinical study, the combination of bromelain and amoxicillin raised the levels of amoxicillin in the blood. Also, some studies suggest that bromelain may increase the body's absorption of tetracycline, another antibiotic. But results of other studies have been conflicting.
Blood-thinners (anticoagulants and antiplatelet drugs) — Bromelain may affect the blood's ability to clot. When taken with blood-thinners, it could raise the risk of bleeding.
Supporting Research
Adachi N, Koh CS, Tsukada N, Shoji S, Yanagisawa N. In vitro degradation of amyloid material by four proteases in tissue of a patient with familial amyloidotic polyneuropathy. J Neurol Sci. 1988;84(2-3):295-299.
Bloomer RJ. The role of nutritional supplements in the prevention and treatment of resistance exercise-induced skeletal muscle injury. Sports Med. 2007;37(6):519-32. Review.
Blumenthal M, Goldberg A, Brinkman J, ed. Herbal Medicine. Expanded Commission E Monographs. Boston, Mass: Integrative Medicine Communications; 2000:33-35
Bradbrook JD. The effect of bromelain on the absorption of orally administered tetracycline. Br J Clin Pharmacol. 1978;6(6):552-554.
Brien S, Lewith G, Walker AF, et al. Bromelain as an adjunctive treatment for moderate-to-severe osteoarthritis of the knee: a randomized placebo-controlled pilot study. QJM. 2006 Dec;99(12):841-50.
Chobotova K, Vernallis AB, Majid FA. Bromelain's activity and potential as an anti-cancer agent: Current evidence and perspectives. Cancer Lett. 2010 Apr 28;290(2):148-56. Review
Felton GE. Fibrinolytic and antithrombotic action of bromelain may eliminate thrombosis in heart patients. Med Hypotheses. 1980;6(11):1123-1133.
Guo R, Canter PH, Ernst E. Herbal medicines for the treatment of rhinosinusitis: a systematic review. Otolaryngol Head Neck Surg. 2006 Oct;135(4):496-506.
The information provided herein should not be used during any medical emergency or for the diagnosis or treatment of any medical condition. A licensed medical professional should be consulted for diagnosis and treatment of any and all medical conditions. Call 911 for all medical emergencies.
Links to other sites are provided for information only — they do not constitute endorsements of those other sites.
Source: Bromelain | University of Maryland Medical Center
https://umm.edu/health/medical/altmed/supplement/bromelain#ixzz2dZDO0f1Q
University of Maryland Medical Center
Follow us: @UMMC on Twitter | MedCenter on Facebook.